Template Based Site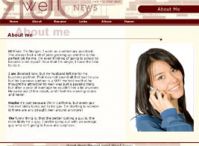 A template based site provides an out of the box design solution for small to medium sized companies. You begin by choosing from a selection of many pre-established layouts and themes, select colors and other styles to suit your tastes, and by adding your own content, logo, and additional functionality, can have a site roughed in very quickly.
Cimplicity can assist in setting up a template based site and walk you thru the selection, editing, and publishing processes. You will be surprised at how simple yet effective a template based site can be, and since it is all managed on the web server, relieves you from purchasing and learning standalone web design software.
CImplicity recommends the Site Studio template based solution as is available at no extra cost when signed up with a basic hosting account via it's hosting provider, IX Web Hosting. To browse a preview of SiteStudio templates, click here. To learn more about IX Web Hosting or to sign up for a hosting package, click here.